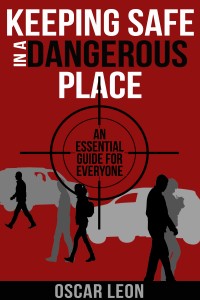 You might be reading this page to find out some information about Krav Maga or some form of self defence or combatives.
I fully believe that the ability to defend yourself is a skill that everyone should have. Of course though, in an ideal world we would have no need for such skills, but alas we are not in an ideal world.
However, there is much more to "self defence" than learning how to fight and defend against attack. Whilst those "hard" skills are essential should you ever be attacked, there are a lot of softer skills you can learn, that will help you to avoid dangerous situations and to also help you escape from them.
In my book "Keeping Safe in a Dangerous Place" you can learn how to be more Aware and Observant of your surroundings, and to know what dangers to look out for. There are specific chapters on Security in the Street, Security in your Vehicle, Security in the Home, and for when travelling on Public Transport. These all lead up to the final chapter of Kidnap Prevention which explains how kidnappers may conduct hostile reconnaissance against you and execute a kidnap or abduction, and what you can do to avoid it.
The book is not about fighting – it is about tactical knowledge for everyday situations that you may find yourself in. Click on the image above to find out more information about the book. It is available in all eBook formats and also from Amazon in hard copy.